restaurant complete details in MILANO city, Milano with Classic cuisine. restaurant Rigolo and address Via Solferino 11, 20121, with chef name Vilma Pagni and air conditioning area with meeting room available and reservation available with parking space .Complete informations and reservation for restaurant Rigolo in city MILANO, province Milano in Italy
Restaurant Rigolo
Address and reservation informations Restaurant
Rigolo
Via Solferino, 11
20121 MILANO(MI)

Telephone Number :+39 2- 86463220

Fax : +39 2- 86463220
Localizare pe harta Restaurant Rigolo
Ambiance Restaurant Rigolo
Restaurant Type
Number of seats

Ambiance
Cuisine
Speciality
Air conditioning
Meeting Room

Restaurant Owner
Chef Name
Maitre Name
Sommelier Name

Restaurant
11 in 0 rooms
Posti aperti : NO
Family [ Nothing in particular ]
Classic
Grigliata di pesce e di carne.
Unavailable
1 rooms ;
0 persons
Renato Simoncini
Vilma Pagni

Sivaldo

Curiosity

Molto richiesta la cucina toscana.

Other informations and details

In un prezioso libro firmato da Dino Buzzati e Osvaldo Patani, Le gambe di Saint Germain, ho trovato questo epigramma: "Le Femmes del quartiere latino ingoiano ostriche a gambe larghe". Quale accostamento invitante: un posto meraviglioso, buon cibo, belle donne. Ci sono luoghi che evocano atmosfere senza tempo, microcosmi che regalano emozioni inaspettate. Il Rigolo è senz'altro uno di questi. Quando Wilma e Franca con Sivaldo e Silvano Simoncini, la sera del 18 novembre 1958 inaugurarono la loro avventura in una Milano dove c'era soprattutto la voglia di scambiarsi idee, forse non si aspettavano che il loro "ristorante toscano" sarebbe diventato presto un luogo della memoria, dove scrittori, giornalisti, artisti, uomini della finanza, stilisti e belle ragazze avrebbero amato incontrarsi. Dove sarebbero nate inchieste giornalistiche, frammenti di romanzi, poesie, dipinti e, perché no, anche qualche amore. Strano posto davvero il Rigolo.
Prices and votes for Restaurant Rigolo
Menu price: 20,00-30,00 euro (without drinks)
Restaurant Rigolo
This restaurant is listed in: :
Italy Hotels : 7 (0) Michelin 2002 : 8 (2) TCI 2002 : 7 (2) Espresso 2002 : 6.5 (12)
Between parentheses is the vote as in original gude
Our Vote: 7.13
Open hours and holiday Restaurant Rigolo
Holiday : Agosto
Closing : Monday at lunch
Monday at dinner

Deschis tarziu: No
Rezervare obligatorie : Yes
Parcare : Yes

Restaurants in the same zone with Restaurant Rigolo
Restaurants in Italy with cuisine Classic
Rigolo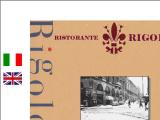 City MILANO
province MI
Rigolo
Vote Restaurant Rigolo
Add a comment for Restaurant Rigolo
Last comments for Restaurant Rigolo
There are no comments added.
Italy Restaurants Search
Best restaurants in Italy(rank)

Al Cambio
( 7.25 ) in BOLOGNA , province BO

Castello
( 7.89 ) in VARANO DE' MELEGARI , province PR

Antonello Colonna
( 8.94 ) in LABICO , province RM

Dell' Hotel Shangri La' Corsetti
( 7.70 ) in ROMA , province RM

Il Simposio
( 7.88 ) in ROMA , province RM

Tram Tram
( 7.30 ) in ROMA , province RM

L' Angolo della Lucania
( 7.67 ) in GENOVA , province GE

Le Cicale
( 7.50 ) in SANTA MARGHERITA LIGURE , province GE

La Capanna da Baci'
( 7.00 ) in APRICALE , province IM

Del Marinaio
( 7.20 ) in SANREMO , province IM
The best Restaurants

L' Antico Giardino
( 7.50 ) in FERRARA , province FE

Milano da Pierino
( 6.50 ) in PORTO GARIBALDI , province FE

Atelier Gastronomico Picci
( 8.06 ) in CAVRIAGO , province RE

Cial de Brent
( 7.50 ) in POLCENIGO , province PN

Al Nuovo Antico Pavone
( 7.17 ) in TRIESTE , province TS
The best Trattorie

Il Caimano
( 7.33 ) in PIEVE DI CENTO , province BO

Toscana
( 7.33 ) in MODENA , province MO

La Brace Steak House
( 7.50 ) in SALA BAGANZA , province PR

Romani
( 8.00 ) in TORRILE , province PR

Al Grifone
( 6.50 ) in TRIESTE , province TS
The best Pizzerie / Pizza

Hostaria da Ivan
( 7.42 ) in ROCCABIANCA , province PR

Delle Notarie
( 8.00 ) in REGGIO EMILIA , province RE

La Lampara
( 7.63 ) in CATTOLICA , province RN

Al Palazzo
( 8.17 ) in SANTARCANGELO DI ROMAGNA , province RN

Villa La Floridiana
( 7.80 ) in ANAGNI , province FR
The best Wine Bar / Wine shop

Antica Trattoria Volano
( 7.50 ) in FERRARA , province FE

Gambero Rosso
( 8.00 ) in CESENATICO , province FC

La Briciola
( 7.50 ) in GUASTALLA , province RE

La Grotta della Giamaica
( 7.00 ) in MONTE COLOMBO , province RN

Alla Fortuna da Nico antica trattoria
( 8.17 ) in GRADO , province GO
The best Ethnic Restaurants

Bellaria
( 6.25 ) in SALSOMAGGIORE TERME , province PR

La Corte
( 7.20 ) in RONCHI DEI LEGIONARI , province GO

Griglia d'Oro
( 7.30 ) in SAN VITO AL TAGLIAMENTO , province PN

Zaraza'
( 7.00 ) in FRASCATI , province RM

Gaudi'
( 6.50 ) in ROMA , province RM
Articles
Restaurant owner registration
Login to your account