restaurant complete details in MILANO city, Milano with Classic cuisine. restaurant Boccondivino and address Via Carducci Giosue' 17, 20123, with chef name Fabrizio Concordati and air conditioning area with meeting room available and late opening and reservation available with parking space .Complete informations and reservation for restaurant Boccondivino in city MILANO, province Milano in Italy
Restaurant Boccondivino
Address and reservation informations Restaurant
Boccondivino
Via Carducci Giosue', 17
20123 MILANO(MI)

Telephone Number :+39 2- 866040

Fax : +39 2- 867368
Localizare pe harta Restaurant Boccondivino
Ambiance Restaurant Boccondivino
Restaurant Type
Number of seats

Ambiance
Cuisine
Speciality
Air conditioning
Meeting Room

Restaurant Owner
Chef Name
Maitre Name
Sommelier Name

Restaurant
17 in 3 rooms
Posti aperti : NO
Family [ Nothing in particular ]
Classic
Salumi, formaggi, vini
Unavailable
1 rooms ;
90 persons
Luigi Concordati
Fabrizio Concordati

Luigi e Fabrizio Concordati

Curiosity

Percorso guidato degustazione 7 tipo di vino a 55,00

Other informations and details

Salumi, formaggi, vini. Dal 1976 questo locale familiare ed accogliente non offre la solita cena, ma un viaggio alla riscoperta dei sapori della tradizione. Vasta e varia è la scelta dei salumi e, soprattutto dei formaggi, dalle burrate ai formaggi stagionati, con una lista di più di quaranta nomi che variano a seconda del periodo dell'anno. Il servizio è accurato e professionale, pronto a consigliarVi il vino più adeguato per esaltare il sapore dei cibi. Ricca la carta dei vini, fornita di oltre ottocento etichette.
Prices and votes for Restaurant Boccondivino
Menu price: 30,00-40,00 euro (without drinks)
Restaurant Boccondivino
This restaurant is listed in: :
Italy Hotels : 7 (0) TCI 2002 : 7 (2) Panorama 2002 : 6 (0)
Between parentheses is the vote as in original gude
Our Vote: 6.67
Open hours and holiday Restaurant Boccondivino
Holiday : Agosto e Natale
Closing : Sunday at lunch
Sunday at dinner
Always at lunch

Deschis tarziu: Yes
Rezervare obligatorie : Yes
Parcare : No

Restaurants in the same zone with Restaurant Boccondivino
Restaurants in Italy with cuisine Classic
Boccondivino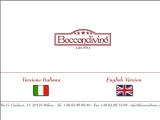 City MILANO
province MI
Boccondivino
Vote Restaurant Boccondivino
Add a comment for Restaurant Boccondivino
Last comments for Restaurant Boccondivino
There are no comments added.
Italy Restaurants Search
Best restaurants in Italy(rank)

Europa 92
( 7.80 ) in MODENA , province MO

Di Cafragna
( 8.07 ) in FORNOVO DI TARO , province PR

La Pecora Nera
( 7.43 ) in RIETI , province RI

Hostaria L'Oca Giuliva
( 7.60 ) in FIANO ROMANO , province RM

Da Mamma Santa
( 10.00 ) in ROMA , province RM

Le Sans Souci
( 9.00 ) in ROMA , province RM

Di San Cesario
( 7.50 ) in SAN CESAREO , province RM

Da Pino
( 7.60 ) in SAN MARTINO AL CIMINO , province VT

La Zaffera
( 7.63 ) in VITERBO , province VT

Edilio
( 8.25 ) in GENOVA , province GE
The best Restaurants

Al Castello dell'Aquila d'Oro
( 8.64 ) in DOLEGNA DEL COLLIO , province GO

Del Passeggero
( 8.00 ) in GRECCIO , province RI

Lo Sgommarello
( 6.67 ) in CASTEL MADAMA , province RM

San Giorgio
( 7.67 ) in FIUMICINO , province RM

Il Convivio Troiani
( 8.69 ) in ROMA , province RM
The best Trattorie

Dell' Hotel Sirenuse, La Sponda
( 7.88 ) in POSITANO , province SA

Waikyky
( 7.00 ) in CESENATICO , province FC

Locanda Il Povero Diavolo
( 8.13 ) in TORRIANA , province RN

Casa Loma
( 6.50 ) in ROMA , province RM

Al Parlamento
( 6.00 ) in ROMA , province RM
The best Pizzerie / Pizza

Da Valentone
( 7.13 ) in MARINA DI CAMEROTA , province SA

Godot
( 7.33 ) in BOLOGNA , province BO

Ra Ca' Longa
( 7.00 ) in BOBBIO , province PC

Ai Castellieri
( 8.06 ) in MONFALCONE , province GO

Dell' Aquilone
( 7.00 ) in VITICUSO , province FR
The best Wine Bar / Wine shop

Bitone
( 8.06 ) in BOLOGNA , province BO

Riva
( 8.07 ) in PONTE DELL'OLIO , province PC

Nonna Bianca
( 7.10 ) in TRECASALI , province PR

Da Mario, Buffet
( 8.00 ) in TRIESTE , province TS

Vitello d'Oro
( 7.50 ) in UDINE , province UD
The best Ethnic Restaurants

No Code Bistrot
( 6.83 ) in CESENATICO , province FC

San Nicola
( 7.72 ) in BOBBIO , province PC

Del Doge
( 6.88 ) in CODROIPO , province UD

La Locanda del Bere
( 7.80 ) in BORGO FAITI , province LT

Cantina Colonna
( 6.88 ) in MARINO , province RM
Articles
Restaurant owner registration
Login to your account