restaurant complete details in MILANO city, Milano with Creative cuisine. restaurant L' Ape Piera and address Via Lodovico il Moro 11, 20143, with chef name Nicola Grassi and air conditioning area with meeting room available and reservation available with parking space .Complete informations and reservation for restaurant L' Ape Piera in city MILANO, province Milano in Italy
Restaurant L' Ape Piera
Address and reservation informations Restaurant
L' Ape Piera
Via Lodovico il Moro, 11
20143 MILANO(MI)

Telephone Number :+39 2- 89126060

Fax : +39 2- 89126060
Localizare pe harta Restaurant L' Ape Piera
Ambiance Restaurant L' Ape Piera
Restaurant Type
Number of seats

Ambiance
Cuisine
Speciality
Air conditioning
Meeting Room

Restaurant Owner
Chef Name
Maitre Name
Sommelier Name

Restaurant
11 in 2 rooms
Posti aperti : NO
Elegant [ Nothing in particular ]
Creative

Unavailable
1 rooms ;
65 persons
Maurizio Palazzo
Nicola Grassi

Silvia Goglio

Other informations and details

Una bella casa dell'ottocento, ristrutturata con eleganza e semplicità, nella Milano dei navigli. Al piano terra la cucina, a vista, e l'enoteca. Poi si sale una scala di pietra e si arriva alle due sale da pranzo ampie e luminose.La cucina è moderna e innovativa, ricercata nell'abbinamento dei sapori. Fra le diverse proposte: cipolle di Tropea al forno con ripieno di zucca e mostarda, spaghetti alla chitarra con ragù di canocchie e zucchine, filetto di vitello con carciofi e salsa all'acciuga, scaloppa di rombo con verza stufata e salsa allo zenzero, torta di patate con salsa al rhum.La carta dei vini è ricca e varia, con più di trecento etichette, provenienti da tutte le regioni italiane e qualcuna dall'estero.
Prices and votes for Restaurant L' Ape Piera
Menu price: 40,00-50,00 euro (without drinks)
Restaurant L' Ape Piera
This restaurant is listed in: :
Gambero 2002 : 8 (79) TCI 2002 : 7.5 (2) Espresso 2002 : 7 (13) Michelin 2002 : 9 (3) Accademia 2002 : 8.5 (3)
Between parentheses is the vote as in original gude
Our Vote: 8.00
Open hours and holiday Restaurant L' Ape Piera
Holiday : Agosto
Closing : Sunday at dinner

Deschis tarziu: No
Rezervare obligatorie : Yes
Parcare : Yes

Restaurants in the same zone with Restaurant L' Ape Piera
Restaurants in Italy with cuisine Creative
L' Ape Piera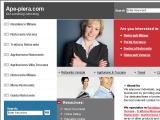 City MILANO
province MI
L' Ape Piera
Vote Restaurant L' Ape Piera
Add a comment for Restaurant L' Ape Piera
Last comments for Restaurant L' Ape Piera
There are no comments added.
Italy Restaurants Search
Best restaurants in Italy(rank)

Le Colonne
( 8.14 ) in CASERTA , province CE

Damiano
( 7.38 ) in ISCHIA PORTO , province NA

Piacentino
( 7.00 ) in BOBBIO , province PC

Da Pelati Cinque Pini
( 7.85 ) in REGGIO EMILIA , province RE

Al Campanile
( 6.67 ) in CERVIGNANO DEL FRIULI , province UD

La Rosetta
( 6.70 ) in ALATRI , province FR

Nane
( 8.00 ) in PONTINIA , province LT

Massimo d' Azeglio
( 7.00 ) in ROMA , province RM

Tavernetta il Cavaliere
( 7.00 ) in VITERBO , province VT

La Pineta
( 7.08 ) in GENOVA , province GE
The best Restaurants

Calvanella
( 7.00 ) in SESTOLA , province MO

Di Strada Casale
( 8.13 ) in BRISIGHELLA , province RA

101
( 6.50 ) in GORIZIA , province GO

Ai Provveditori
( 6.00 ) in PALMANOVA , province UD

Nino dal 1934
( 7.30 ) in ROMA , province RM
The best Trattorie

Mimi' alla Ferrovia
( 7.64 ) in NAPOLI , province NA

La Panoramica
( 7.38 ) in BOLOGNA , province BO

Tratoria De Toni
( 7.25 ) in GRADO , province GO

La Campana
( 7.40 ) in ROMA , province RM

Cardinale
( 6.33 ) in ROMA , province RM
The best Pizzerie / Pizza

Dell' Hotel Cesari
( 8.00 ) in FROSINONE , province FR

Dell' Hotel Miramonti, da Checco al Calice d'Oro
( 7.17 ) in RIETI , province RI

Samarcanda
( 8.00 ) in CIVITAVECCHIA , province RM

La Cavola d'Oro
( 7.40 ) in GROTTAFERRATA , province RM

Bacaro
( 7.00 ) in ROMA , province RM
The best Wine Bar / Wine shop

La Masseria
( 7.33 ) in MARZAGLIA , province MO

La Grotta
( 7.43 ) in BRISIGHELLA , province RA

Da Toni
( 8.21 ) in VARMO , province UD

Dell' Hotel Miramonti, da Checco al Calice d'Oro
( 7.17 ) in RIETI , province RI

La Scaletta
( 7.71 ) in CIVITAVECCHIA , province RM
The best Ethnic Restaurants

Antica trattoria Martella
( 7.44 ) in AVELLINO , province AV

Dell' Hotel il Ceppo
( 7.44 ) in AGROPOLI , province SA

Al Campanile
( 6.67 ) in CERVIGNANO DEL FRIULI , province UD

San Rocco
( 7.25 ) in MONTEROTONDO , province RM

Il Convivio Troiani
( 8.69 ) in ROMA , province RM
Articles
Restaurant owner registration
Login to your account