restaurant complete details in BERTINORO city, Forlì-Cesena with Classic cuisine. restaurant Locanda Gradisca and address Via Palmeggiana 285, 47032, with chef name Gian Luca Mambelli and air conditioning area with meeting room available and late opening and reservation available with parking space and outdoor posts ( terrace ).Complete informations and reservation for restaurant Locanda Gradisca in city BERTINORO, province Forlì-Cesena in Italy
Restaurant Locanda Gradisca
Address and reservation informations Restaurant
Locanda Gradisca
Via Palmeggiana, 285
47032 BERTINORO(FC)

Telephone Number :+39 543- 445044
+39543- 446082
Fax : +39 543- 444224
Localizare pe harta Restaurant Locanda Gradisca
Ambiance Restaurant Locanda Gradisca
Restaurant Type
Number of seats

Ambiance
Cuisine
Speciality
Air conditioning
Meeting Room

Restaurant Owner
Chef Name
Maitre Name
Sommelier Name

Restaurant
285 in 3 rooms
Posti aperti : SI
Elegant [ Nothing in particular ]
Classic
Strozzapreti alle verdurine croccanti, Filetto in salsa di Soia con strudel di verza.
Unavailable
1 rooms ;
0 persons
Mario Pezzi
Gian Luca Mambelli
Piero Collini
Jacopo

Curiosity

La locanda è annessa alla Fattoria Paradiso, azienda vitivinicola e agriturstica con stanze per il pernottamento, piscina e museo del vino

Other informations and details

La Locanda Gradisca è il ristorante dell'azienda vitivinicola ed agrituristica Fattoria Paradiso, produttrice di grandi e nobili vini cru che da oltre 50 anni percorrono le strade del mondo conquistando le tavole di papi e presidenti e leader nel settore dell'agriturismo dell'Emilia Romagna. Sorta pochi anni fa alla sommita' dell'erta detta del Barbarossa, la Locanda Gradisca ha dato senso compiuto all'accoglienza aziendale nel proporre la grande cucina del territorio ed i piatti dell'Artusi, nella signorile e calda atmosfera delle sue sale, che fronteggiano l'ampio solarium, le piscine e la corsa dei vigneti che si stagliano sull'armonico andare delle colline.Storia di vini, questa, di gente e di terra del vino che continua a stupire il visitatore, per la regia innovativa di un'autentica figlia d'arte, qual'e' Graziella Pezzi e di suo figlio Jacopo Lupo.Cucina creativa, mise en place elegante e raffinata con lini di fiandra, sottopiatti con lo stemma di famiglia, calici di cristallo e candelabri d'argento nella "Sala Gradisca" e "Saletta Pellegrino Artusi". Una proposta piu' disinvolta nella "Sala Stuzzicando" per chi, giovane o meno, desidera una serata alternativa con semplici piatti, antichi o nuovi, per ritrovare il gusto e il piacere della tradizione e sperimentare insieme le cucine etniche del mondo. Intrignati piatti del piacere per gli amanti del gusto abbinati ai grandi prodotti aziendali della Fattoria Pardiso: l'olio extravergine Palmezzano, l'aceto balsamico Vignatico ed i nobili vini e spumanti gran cru della Romagna.Accanto e' stato sapientemente ristrutturato un rustico con eleganti ed accoglienti camere e suites.
Prices and votes for Restaurant Locanda Gradisca
Menu price: 30,00-40,00 euro (without drinks)
Restaurant Locanda Gradisca
This restaurant is listed in: :
Veronelli 2002 : 6.5 (0) Italy Hotels : 7 (0) Panorama 2002 : 6 (0)
Between parentheses is the vote as in original gude
Our Vote: 6.50
Open hours and holiday Restaurant Locanda Gradisca
Holiday : Mai
Closing : Always open

Deschis tarziu: Yes
Rezervare obligatorie : Yes
Parcare : Yes

Restaurants in the same zone with Restaurant Locanda Gradisca
Restaurants in Italy with cuisine Classic
Locanda Gradisca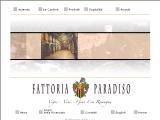 City BERTINORO
province FC
Locanda Gradisca
Vote Restaurant Locanda Gradisca
Add a comment for Restaurant Locanda Gradisca
Last comments for Restaurant Locanda Gradisca
There are no comments added.
Italy Restaurants Search
Best restaurants in Italy(rank)

Le Fonti
( 7.00 ) in CASTEL SAN PIETRO TERME , province BO

Borso d'Este
( 7.67 ) in MODENA , province MO

Villa Maria Luigia da Ceci
( 8.50 ) in COLLECCHIO , province PR

Da Taverna Stelio Cigui
( 7.80 ) in MUGGIA , province TS

Da Gaspar
( 7.00 ) in TARCENTO , province UD

Antonello Colonna
( 8.94 ) in LABICO , province RM

Alberto Ciarla
( 8.38 ) in ROMA , province RM

Cul de Sac
( 6.70 ) in ROMA , province RM

San Luigi
( 7.50 ) in ROMA , province RM

Sapori e Sapere
( 7.25 ) in ROMA , province RM
The best Restaurants

Da Leonida
( 7.40 ) in BOLOGNA , province BO

Atelier Gastronomico Picci
( 8.06 ) in CAVRIAGO , province RE

Le Chiocciole
( 7.00 ) in GENOVA , province GE

Saint Cyr
( 7.57 ) in GENOVA , province GE

Puny
( 7.63 ) in PORTOFINO , province GE
The best Trattorie

L' Angolino di Filippo
( 7.69 ) in SAN VITO CHIETINO , province CH

Prosit
( 8.25 ) in MARCIANISE , province CE

Naldi
( 7.58 ) in IMOLA , province BO

Rostaria al Castello
( 7.13 ) in ARCETO , province RE

Vicolo di Mblo'
( 7.71 ) in FONDI , province LT
The best Pizzerie / Pizza

Piccolo Roma
( 7.63 ) in PIACENZA , province PC

Harry's Grill
( 7.50 ) in TRIESTE , province TS

La Bomboniera
( 7.21 ) in CIVITAVECCHIA , province RM

Al Ceppo
( 7.67 ) in ROMA , province RM

Taverna Giulia
( 7.30 ) in ROMA , province RM
The best Wine Bar / Wine shop

Il Sole, Antica Locanda del Trebbo
( 8.28 ) in TREBBO DI RENO , province BO

Di Strada Casale
( 8.13 ) in BRISIGHELLA , province RA

Al Parco
( 7.17 ) in BUTTRIO , province UD

Da Veneziano
( 7.75 ) in FORMIA , province LT

La Fenice
( 8.00 ) in LATINA , province LT
The best Ethnic Restaurants

Da Peppone
( 7.00 ) in MASSA LUBRENSE , province NA

Da Willy
( 7.50 ) in CASTEL SAN PIETRO TERME , province BO

Papi
( 7.83 ) in CREVALCORE , province BO

Santa Croce
( 7.79 ) in PARMA , province PR

Marinelli da Vittorio
( 7.58 ) in RIMINI , province RN
Articles
Restaurant owner registration
Login to your account